Published by
Wednesday Books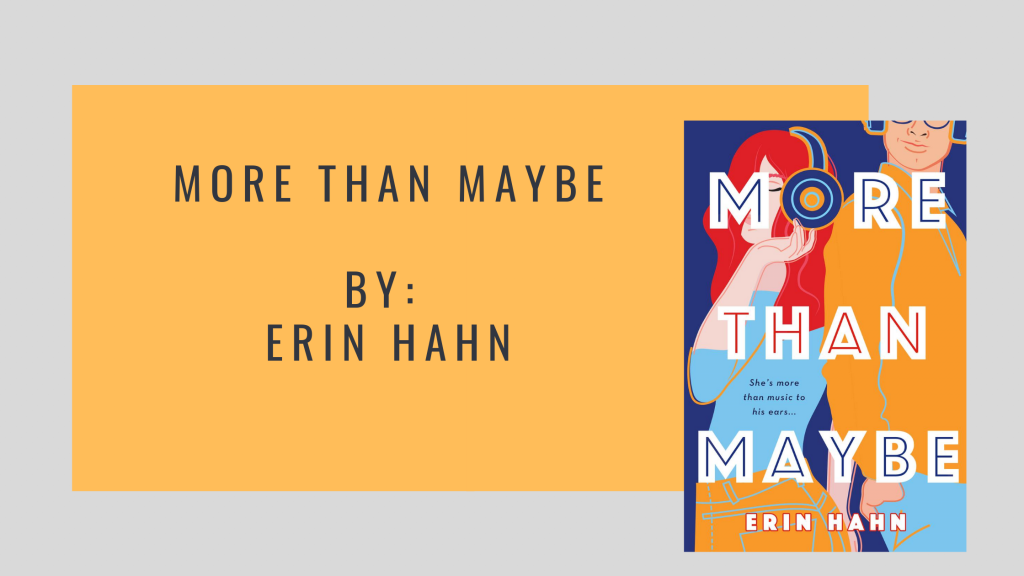 My friends at Wednesday Books (#partner) always know how to get the right books in the right hands. When they told me about More Than Maybe, I was instantly drawn in. There was an excitement that radiated from the email, even if it was through the screen. And with that much enthusiasm, how could I not be a part of the blog tour for More Than Maybe by Erin Hahn? I immediately took the chance and said yes to Wednesday Books.
About Erin Hahn: ERIN HAHN is the author of You'd Be Mine and More Than Maybe. She teaches elementary, would rather be outside and makes a lot of playlists. So many playlists in fact, that she decided to write books to match them! She married her very own YA love interest who she met on her first day of college and has two kids who are much, much cooler than she ever was at their age. She lives in Ann Arbor, Michigan, aka the greenest place on earth and has a cat named Gus who plays fetch and a dog named June who doesn't.
Find Erin on the Web, Goodreads, Instagram, and Twitter.
---
Publisher: St. Martin's Paperbacks
Publish Date:  February 26, 2019
Synopsis:Growing up under his punk rocker dad's spotlight, eighteen-year-old Luke Greenly knows fame and wants nothing to do with it. His real love isn't in front of a crowd, it's on the page. Hiding his gift and secretly hoarding songs in his bedroom at night, he prefers the anonymous comfort of the locally popular podcast he co-hosts with his outgoing and meddling, far-too-jealousy-inspiringly-happy-with-his-long-term-boyfriend twin brother, Cullen. But that's not Luke's only secret. He also has a major un-requited crush on music blogger, Vada Carsewell.
Vada's got a five year plan: secure a job at the Loud Lizard to learn from local legend (and her mom's boyfriend) Phil Josephs (check), take over Phil's music blog (double check), get accepted into Berkeley's prestigious music journalism program (check, check, check), manage Ann Arbor's summer concert series and secure a Rolling Stoneinternship. Luke Greenly is most definitely NOT on the list. So what if his self-deprecating charm and out of this world music knowledge makes her dizzy? Or his brother just released a bootleg recording of Luke singing about some mystery girl on their podcast and she really, really wishes it was her?
In More Than Maybe, Erin Hahn's swooniest book yet, Luke and Vada must decide how deep their feelings run and what it would mean to give love a try.
Disclosure: ARC provided for an honest review. #partner
---
Erin Hahn's More Than Maybe blew me away. When I first read it, it was at the start of the pandemic. And friends, let me tell you: it was the right book that came at the right time. As soon as I finished the book, I had that lingering feeling that I get after a really great story. There is that pause, a collective sigh, and this feeling of amazement and sentimentality.
Vada is this young girl who is on the verge of greatness, but has a huge hole in her heart. And through music and dance, she learns to express and face all of the feelings that go through her each day. I loved her, I felt for her, and at the core, I understood her.
Luke is the boy next door of this year! A son of a famous musician, half of a podcast duo, and also the other half of a twin, he is the guy that you want to tell all of your problems to. He was the perfect match to Vada's eccentric nature. And everything that he does for her? *chef's kiss*
There is so many levels and types of love explained in this story. And I think it's important to know that while love is schmoopy, it can sometimes not be so great. And I appreciated that so, so much. The amount of tears that I have shed over this story? TONS. This love story is told through the feeling of music, where you can both listen to a song and just KNOW, that the moment needs to be cherished and savored with every fiber of your being.
And boy did I feel the love.
After all, that's what we really care about when it comes down to it, isn't it? We care about what we felt. We want to be moved and changed and knocked over and pieced back together. We want to swoon and taste and cry and scream to the sky, Yes, this. We want ninety-minute relationships encompassing a lifetime of feels. We want the fantasy, the reality, the immorality, the salvation… we want to be seen.
This book allowed me to look at myself, my strengths and weaknesses. But most importantly, it allowed me to realize that I needed to value myself more. Hahn just knew how to create this realistic world. I devoured this story so quickly, and I never wanted it to end.  I loved this book for so many reasons, and I am forever a fan.
Huge thanks to Wednesday Books for allowing me to read this gem of a story early, in exchange for a honest review.
---
Sounds amazing, right? Read an excerpt HERE.